Christian Vision and Values
We aim to provide a high quality of education, based on the principles and practice of the Church of England, in a challenging, stimulating and caring environment for children of all faiths and none.
Christian Values
We are very proud of our Church school values which underpins our inclusive ethos. These values were selected by our school community and we aspire to use these values to enable us to Believe, Inspire and Excel in our everyday lives.
On the Primary site we aim for our Christian values of 'Love, Courage, Truth, Respect and Friendship' to be found in practice throughout the school. They help to inform our Christian understanding of God as Father, Son and Holy Spirit.
On the Secondary site we aim for our Christian values of 'Courage, Respect, Kindness and Trust' to be found in practice throughout the school. They help inform our Christian understanding of God.
We promote SMSC including the five fundamental British values— 'Democracy', 'The Rule of Law', 'Tolerance of different Cultures and Beliefs', 'Mutual Respect' and 'Individual Liberty'.
Christian Values (Primary)
Courage: Having the strength to do what is right and true. Do not give in to fear or discouragement.
Truth: Saying what we mean and meaning what we say (living with integrity).
Respect: Valuing each other and celebrating our differences.
Friendship: Caring and sharing. Overcoming our differences and working together.
Love: Caring enough to put others before ourselves. Selfless service to others.
Christian Values (Secondary)
Courage: Enduring in our commitment to what is right and true - not giving in to discouragement. As humans there are going to be times when we are scared and this is nothing to be ashamed about. We need to have the courage to confront the issue, to ask for support and to help others.
2 Timothy 1:7 'For the Spirit God gave us does not make us timid, but gives us power, love and self-discipline.'
Old Testament example: Moses
Moses returned to Egypt to confront his adoptive family and force them to left the Hebrew slaves go. He had the courage to go in front of the Pharaoh to demand for something and when he was told no he kept returning. "Then the Lord said to Moses, "Get up early in the morning and confront Pharaoh as he goes to the river and say to him, 'This is what the Lord says: Let my people go, so that they may worship me." (Exodus 8)
New Testament example: The friends of the paralysed man
"Since they could not get him to Jesus because of the crowd, they made an opening in the roof above Jesus by digging through it and then lowered the mat the man was lying on. 5 When Jesus saw their faith, he said to the paralyzed man, "Son, your sins are forgiven."(Mark 2:4-5)
They had the courage to get up on the roof of someone's house, cut a hole in the roof and lower the man down through it interrupting what Jesus was saying below.
There courage was rewarded as the man was healed.
Respect
Respect: Valuing each other and celebrating our differences. We believe in having respectful relationships with each other and our environment. To think about others when we make our choices and respect the differences, promote equality, understanding and tolerance.
Matthew 7:12 "So in everything, do to others what you would have them do to you, for this sums up the Law and the Prophets."
Old Testament example: Daniel
"So they went to the king and spoke to him about his royal decree: "Did you not publish a decree that during the next thirty days anyone who prays to any god or human being except to you, Your Majesty, would be thrown into the lions' den?" The king answered, "The decree stands—in accordance with the law of the Medes and Persians, which cannot be repealed." Then they said to the king, "Daniel, who is one of the exiles from Judah, pays no attention to you, Your Majesty, or to the decree you put in writing. He still prays three times a day." (Daniel 6)
Daniel showed respect for God although he lived in a community that did not. We need to value each other and celebrate our differences.
New Testament example: The parable of the good Samaritan
It is about a traveler who is left half dead on the road. First a Jewish priest and then a Levite comes by, but both avoid the man. Finally, a Samaritan happens upon the traveler. Although Samaritans and Jews despised each other, the Samaritan helps the injured man.
"Which of these three do you think was a neighbour to the man who fell into the hands of robbers?" The expert in the law replied, "The one who had mercy on him." Jesus told him, "Go and do likewise."(Luke 10:36-38)
People (including those who are different from us) are equally valuable and we should treat others with care and respect.
Trust
Trust: Sharing responsibility for each other and refusing to live in doubt and suspicion. As a community we need to trust each other, be honest and take responsibility for our own actions.
Psalm 121:3 "He will not let your foot slip— he who watches over you will not slumber."
Old Testament example: Noah
God told Noah he had to build the ark. Noah had to trust God because what he was being told sounded extremely unlikely and he knew people would think him strange. "Seven days from now I will send rain on the earth for forty days and forty nights, and I will wipe from the face of the earth every living creature I have made." (Genesis 7:4)
Trusting God saved Noah and his family.
New Testament example: The miraculous catch of fish
"Jesus said to Simon: "Put out into the deep, and let down your nets for a catch. And Simon answered, 'Master, we have toiled all the night and took nothing!'" (Luke 5:4b-5a). Peter, who had years of experience with fishing was being told what to do by a carpenter. Simon knew during the night there was a much greater prospect of a good catch. If one did not catch anything during the night, the chances of a good catch during the day were even smaller. Yet he put his trust in Jesus and put the nets back out and they caught so much fish they needed additional help to get the nets out of the water.
Kindness
Kindness: Showing others they are valuable by how you treat them. We put ourselves in other people's shoes and show concern and care for others. We look after one another and can put others before ourselves.
Galatians 6:10 "Therefore, as we have opportunity, let us do good to all people."
Old Testament example: Ruth and Boaz
Ruth came from afar to look after her mother in law Naomi who was alone after the death of her husband and sons. Ruth gave up her friends and her home and moved to look after Naomi. They were struggling but Boaz, a local farmer showed kindness towards them. "Boaz inquired concerning the stranger he saw and ordered her to be well treated." (Ruth 2:5)
New Testament example: Healing the leper
Lepers were considered outcasts in Jesus' time. They lived separately and were seen as "unclean" and "untouchable". But Jesus, taking pity on the leper, healed him of his disease. He didn't see the man as a leper but a human being who was sick and needed his help. Through this, Jesus taught us that kindness should go beyond social stereotypes. We should look at where they're coming from and understand their circumstances. Only then can we develop genuine compassion. "Jesus reached out his hand and touched the man. "I am willing," he said. "Be clean!" Immediately he was cured of his leprosy." (Matthew 8)
Collective Worship
Click here to view 'What is Collective Worship and how does it look at our school?'
Click here to view the Collective Worship Schedule for Primary
Click here to view the Collective Worship Schedule for Secondary
Click here to view the Collective Worship delivered to Year 6 students during their Transition Days in July 2022.
Curriculum
Click here to view The Bay CE School Whole School RE Curriculum.
Click here to view The Bay CE School (Primary) RE Curriculum with British Values.
Latest News
September 2023
The Bishop of Portsmouth visits The Bay CE School
We were delighted to receive a visit from Rt Rev Dr Jonathan Frost, Bishop of Portsmouth, to our school on Wednesday. He was thrilled to meet pupils and staff, who welcomed him to our school community. He started at the primary site with a tour around the classrooms, then he was led by four Year 6 pupils as they walked him over to the secondary site.
At the secondary site he was joined by some Year 7 pupils, who, along with the Year 6 pupils, asked him a variety of interesting questions such as...
What can the church do to support mental health?
How would you motivate people to find out more about Christianity?
Do you think it's important for all students to study RE in school and why?
What is your favourite part of being a Bishop?
What was your favourite subject at school?
After listening with great interest to the pupils and chatting through their questions, he had a tour of the secondary site.
September 2023
Congratulations to Holly T for winning the Transition Prayer Project Competition. Holly's entry talked about our school values in practice in everyday life. Her prayer became our school prayer for the week and was displayed in reception. It will be in the prayer book in reception for the whole year. Thank you to everyone who entered, every entry received House points and Holly also received a prize.
March 2023
Y1-Y6 classes visited St John's Church for our Easter service led by Year 4. We were treated to beautiful singing, clear narration and a reminder of the meaning of Easter. Well done all!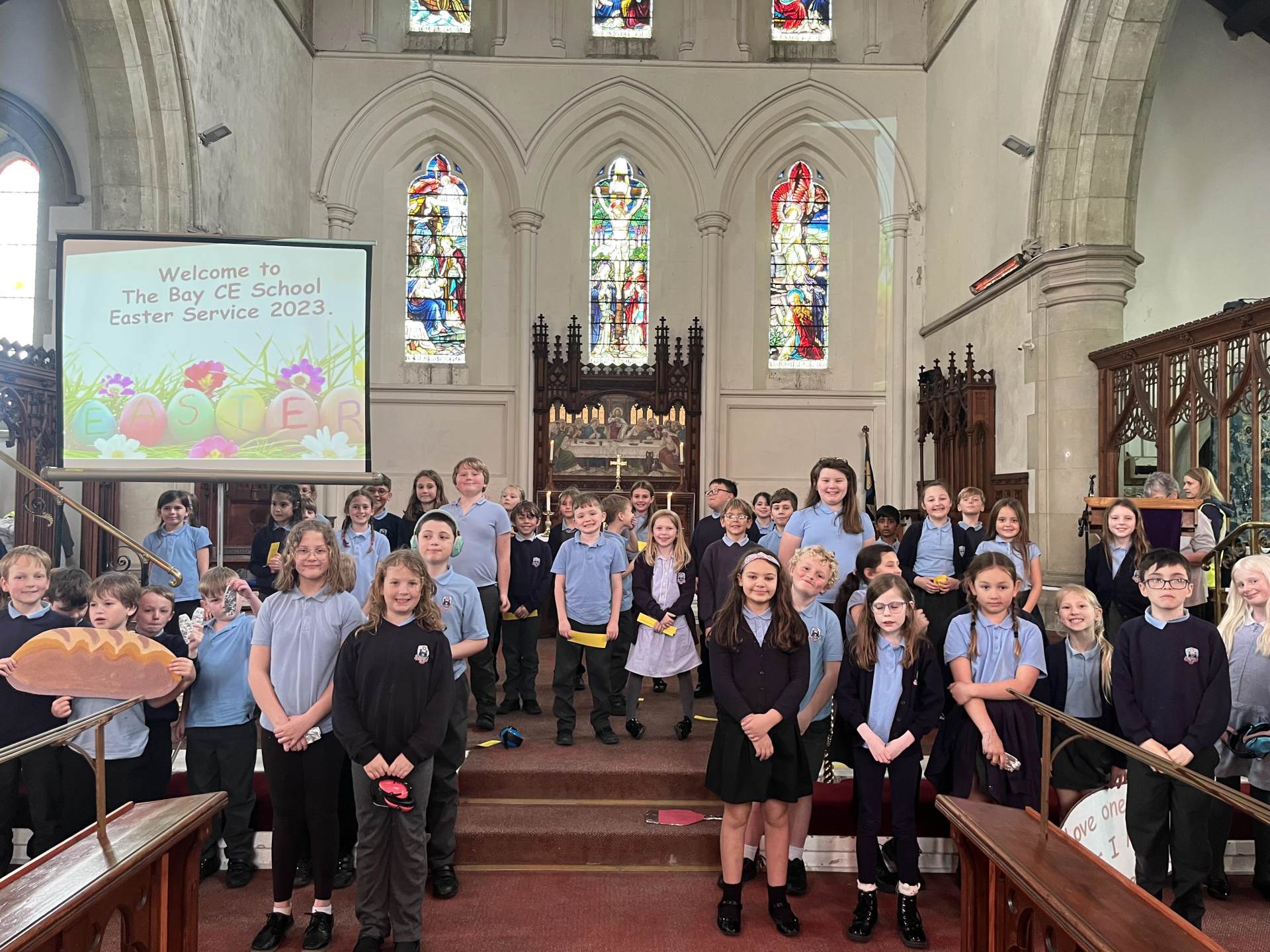 January 2023
Year 6 House Captains and Vice Captains leading Collective acts of Worship across the school. This worship focused on our school value – courage.