Meet the Governors
Carolyn Corbett – Foundation Governor
As a foundation governor I am a member of Christ Church Sandown. I have been married for forty four years and have two children and our grandchildren attend island schools. Before retiring I worked in a school library and also public libraries. When possible I enjoy gardening, walking our dog Molly and being with the family.
It has been my privilege to be a governor and see Niton and The Bay CE School develop over the years, and I look forward to the challenges and opportunities that continually enable the schools to thrive and be the best they can be for all.
I am on the Quality of Education Secondary and Primary sub committees. The latter of which I chair. I am also on the Christian Distinctiveness and Pay Committees.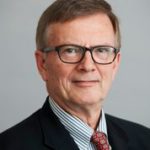 Richard Wade – Co-opted Governor
I hold degrees from Cranfield (MBA) and Cambridge (MA). My career covered financial markets in the USA, France, the Middle East and Africa. A fascinating decade at the National Audit Office involved working closely with Parliament.
In London, my children attended a French Lycee – another form of all- through school. My volunteer activities included service as a young officer in the Queen's Own Yeomanry and, as a member of the Consistoire, teaching Sunday School in London's last Huguenot church. The oldest of six grandchildren recently graduated from Warwick University.
Twenty two years ago, my American wife, who completed her PhD at Brighton, introduced us to the Isle of Wight and ten years ago we made our home here. I am a strong believer in the necessity of achieving the best educational outcomes for the children of Niton and Sandown, in order to maximise their potential and benefit their community.
I chair the committee that has responsibility for Staffing, Premises and Finance and I am on the Quality of Education (Secondary) committee.
Peter Higgin – Co-opted Governor and Chair of Governors
I have been a parent governor since 2019 and took on the role of Chair in 2021.
I have 20 years experience of working in education, theatre and creative approaches to education. I split my time between London and the Island working for an immersive theatre company called Punchdrunk Enrichment, where I am Artistic Director and joint CEO. I believe strongly in the transformative power of the arts to unlock our innate creativity and curiosity. I place particular importance on ensuring an equitable approach and am passionate about access, inclusion and diversity. I understand first hand the importance of a strong education as a foundation for your future and have my experiences at Sandown High School to thank for that.
Originally from Knighton, I now live in Ventnor with my family. Our two sons attend Niton Primary School. In my spare time I enjoy surfing, gardening, running, cycling and spending time with family and friends.
As well as chairing the Governing Board I am also on the Quality of Education (primary) and Leadership Management and Safeguarding committee.
Rev. Ian Lovell – Co-opted Governor
Hello, my name is Rev. Ian Lovell and I was appointed as a Co-opted Governor in November 2021. I am currently the Baptist Minister of Salendine Nook Baptist Church, Huddersfield.
I left the Isle of Wight in 2019 in order to take on the role that I now have in Huddersfield.
Some of you will know that I have had a long association with the Cornerstone Federation involving both Niton Primary and The Bay C.E. School. I was a Governor at both schools and was formally Chair of Governors for about 9 years.
I have been married for over 30 years and have 5 sons, 2 daughter in laws, 1 grandson, and a 5 year old Labrador.
I have extensive governance experience and am looking forward to once again working alongside both schools in the Cornerstone Federation. My passion is to see both schools thrive and continue to become the outstanding schools that they can be.
I am also Vice-Chair of Governors at Newsome Academy in Huddersfield, where I am currently a Parent Governor.
Kara Hall – Parent Governor
I was appointed as Parent Governor to the Cornerstone Federation in October 2020 and feel very privileged to be able to do this role. I am mum to two girls whom I am immensely proud of, one at primary and one at secondary school.
For the past 20 years, I have been working at a further education college in a variety of roles ranging from a lecturer in media and journalism to a Sector lead for the Creative Industries and now my current role is a Learning and Development Manager. My role focuses on developing teaching and learning across the college and it is something I am very passionate about.
I feel we are so lucky to live on this beautiful island and find that long walks by the sea with my family and our dog, Meggie are the perfect tonic to the challenges of a busy work life.
Sally Jones – Co-opted Governor
I started working at The Bay in 2012 as School Business Manager after taking time off with my 2 children. Prior to that, I worked for a Building Society for 20 years in a variety of roles up and down the country, before returning to the Island with my family. I am responsible for the non-teaching element at The Bay which includes financial management, HR, personnel, catering, premises, communications, website and the office support of the school. I am also responsible for the financial management of Niton Primary. I think I am extremely lucky to be able to combine my professional experience with my interest in making a difference to children's education at 2 fabulous schools. When I am not in school, I am with my family who is made up of my husband, my 2 children, the dog and me.
Sarah McCarthy-Fry – Co-opted Governor
I am currently a Non Executive Director with the Coop Group, and prior to my retirement from full time work, I was the Finance and IT Director with GKN Aerospace in East Cowes. I am a trustee of the Parliamentary Outreach Trust which works with universities and schools sharing knowledge of Parliament and its procedures.
I live with my husband and dog in Shanklin. We have 4 children and 4 grandchildren. I am an honorary canon of Portsmouth Cathedral and I sing with the Cantata Choir and my local church choir.
I am passionate about education and enabling all pupils in Niton and The Bay to achieve their maximum potential.
I moved to the Isle of Wight in 2012 from Portsmouth where I was the local MP between 2005 and 2010 and served as a Schools Minister between 2008 and 2009 and as a Treasury Minister between 2009 and 2010.
Duncan Mills – Executive Headteacher
My name is Duncan Mills and I am the Executive Headteacher of the Cornerstone Federation. The Governors of The Bay CE and Niton Primary Schools appointed me as the Executive Headteacher of both schools in July 2016.
I have been a Headteacher since 1999, in five different schools, working in the London Borough of Barnet for most of my teaching career before relocating to the Island with my family. I feel extremely privileged to be working with both schools that have such talented staff, wonderful children and supportive parents and governors. I am committed to working to ensure that pupils across the Federation have access to a nurturing environment where they feel safe, a stimulating curriculum, high quality teaching and exciting extra-curricular opportunities available to them to enable them to be the best they can be to prepare them for the future.
'WHAT IS AN EXECUTIVE HEADTEACHER?'
An Executive Headteacher is a strategic role. I provide strategic leadership across both schools, which secures success and continuous improvement, ensuring high quality education for all pupils and the highest standards of learning and achievement.
I work closely with the Senior Team and Governors to make decisions, monitor the effectiveness of the provision and implement improvements. I spend part of each week at each school, although these days change week by week. I am always keen and happy to speak with parents. If you would like to make an appointment, please contact the school office at Niton or The Bay.
Anna Payne – Staff Governor
My name is Anna Payne. I have been married for 35 years and have 2 children, and 3 grandchildren, soon to be 4. Over my time working at school, I have grown and developed in ways that I never thought possible and I am now the Office Manager for The Bay CE all through school.
I am the Staff Governor for the Cornerstone Federation and am in my second term of office. I sit on the Quality of Education (primary) committee. My link subject is EYFS where I monitor and visit Reception class. The ethos in school is a happy one; it is paramount that this is reflected within our children, and it is a vital part of our role as governors to find a way in which all children can Believe, Inspire and Excel.
I feel privileged to be able to contribute towards shaping and securing the future of education for children, parents and carers within the community of the Sandown Bay area. I look forward to continuing to support the Cornerstone Federation.
Matt Purvis
I moved to the island with my family in December 2021 and wanted to get involved in the community straight away. I thought there was no better way than supporting the Cornerstone Federation to deliver great educational outcomes to all the children at the Bay and at Niton. My children are both at Niton.
I have a longstanding personal interest in education outcomes and social mobility. Professionally, I have worked at Parliament for the last fifteen years. I am currently head of research services at the House of Lords. When I am not enjoying the island with my wife and two children, I am usually out running, listening to music or disappointed by Tottenham Hotspur's latest football result.
Rev. Mark Williams – Foundation Governor
Hello, I am the Reverend Mark Williams and am the vicar at Christ Church, Sandown and at St Paul's in Shanklin. I moved to the Island with my family to take up post here at the beginning of August 2018. We have three children; our daughter will soon be attending the all through school. My involvement with the school means that I am often taking collective worship at the school on a Monday or am at Christ Church when the year groups come for collective worship there. I was a governor at previously on the mainland and gained valuable experience there. I look forward to continue serving the Cornerstone Federation.