PE
PE at The Bay
At The Bay, our PE curriculum aims to promote healthy living, whilst inspiring children to try new experiences. Alongside this, the most important aspect is to promote a love of learning so that children become lifelong participants in sport. We pride ourselves in giving opportunities to all children, not just the sporting stars.
Intent
Through our PE curriculum, we hope to inspire young athletes and promote a love of active learning. It is key that we encourage our pupils to lead healthy, active lives and that they are open to try new sports and experiences, which will help them to build confidence, social skills and positive habits.
Implementation
Our curriculum is designed to offer variety, enjoyment and challenge for all children. The curriculum aims to give our children exposure to an activity that they will enjoy and hopefully continue throughout their life. Children are always encouraged to take part and play a range of roles within the lesson so that it is inclusive and accessible to all. We offer a range of physical activities before school, active play at break and lunch times, and a range of after school clubs.
In EYFS, we focus on physical development, safety and using expressive arts and design in dance. In KS1, children build upon their fundamental skills and engage in simple competitive situations as well as co-operative activities. In KS2, they broaden and learn to apply these to a range of situations: communicating and working collaboratively with others. They also start to play more competitive games and have opportunities to enter competitions within school and against other schools across the Island. These variety of skills are emphasised within PE lessons through our Get Set 4 PE platform. In addition to this, the School Games Values are promoted throughout each lesson: self-belief, honesty, determination, teamwork, respect & passion.
Impact
The impact of our PE curriculum will be shown through pupil achievement, sporting achievements and most importantly, a pupil's love of active learning. Our pupils will be continually assessed and monitored through our Get Set 4 PE platform. Some children will access the Gifted & Talented Scheme and others will strive to achieve their 'Sporting Star' badges. Specialised clubs and PE sessions will target specific individual needs to boost confidence and develop sportsmanship.
As a whole school, with a great sporting reputation and history, we strive to give our children as many opportunities as possible by entering all of the competitions available to us and offering children the opportunity to represent our school with pride.
As a whole school, with a great sporting reputation and history, we strive to give our children as many opportunities as possible by entering all of the competitions available to us and offering children the opportunity to represent our school with pride.
Link to our Get Set 4 PE Platform
Use the 'Active Families' tab to access a variety of innovative physical activities at home!
Curriculum Information
Evidencing the Impact of Sports Premium 2021-22
Click here to view the Impact of Sports Premium at The Bay CE School for 2021-22
Platinum School Games Mark
We are delighted to share that we have been awarded the School Games Platinum Mark Award – the highest of sporting accolades! Our PE and sport provision has been acknowledged as being extremely high quality and we have previously achieved the Bronze, Silver and Gold Mark Awards. In order to achieve the Platinum Mark Award, we have had to achieve the Gold Mark standard for five years, demonstrating our commitment to physical activity and com
petitive school sport. This has been evidenced through our inclusive and exciting PE curriculum, in the range of after-school clubs that we offer and the number of competitions that we take part in each year.
From our Sports and Health Leaders, who work with children across the school at break and lunch times, to our PE team who help organise and deliver competitions, this has been a fantastic team effort and is the result of many years of hard work by current and past pupils, as well as clubs and organisations that we work closely with.
Sporting Stars
The following children have achieved their sporting star badges for competing in 10 or more sporting events. Well done to Imogen, William, Abigail, Layla-Mai, Harry, Billy, Tony, Isaac, Bobby & Max.
Sports and Health Leaders
Sports & Health Leaders from Years 3 and 6 deliver a variety of sports activities during breaks & lunch times. They encourage participation in sports activities for all pupils.
Sports & Health leaders have developed independence and leadership skills, whilst other children have increased their physical activity during their freetime through structured play.

Pupil Voice from the Sports & Health Leaders:
"I absolutely love being a Sports & Health Leader. I really enjoy leading activities for everyone."
(Year 6)
"It's so much fun when you see everyone else enjoying themselves!"
(Year 3)
Pupil voice from pupils at break & lunch times:
"I really look forward to lunch times because I take part in lots of different activities. The parachute game is my favourite."
(Year 4)
"The Sports & Health Leaders are great!"
(Year 1)
"I used to feel a bit lonely at breaks until a leader encouraged me to take part in activities with others. I've made lots of new friends."
(Year 5)
Multi-Sport Club
Some Year 4 & 5 students have been having fun doing a variety of new and familiar activities at Multi Sports Club. Each week the children have chosen to explore sports they enjoy but don't regularly participate in, to access different opportunities, and inspire them to enjoy a range of sports.
Throughout the weeks, they have explored Tri-Golf, practicing their putting skills, and aiming at a target. The children have also tried Tennis, playing a fun 'break out' game, as well as starting to develop a rally over the net with their opponent.
All Stars Cricket Club
A group of Year 3 children have been given the opportunity to work with some experienced cricket coaches. Throughout the weeks the group have been learning about all aspects of the game, and how to improve their cricket skills. The children have been looking at batting, fielding, bowling, and have started to play small games to put the skills into practice. This week the children looked at their bowling, using the seesaw technique to ensure a straight bowl towards the wicket.
"Cricket Club is awesome, I like playing all of the games."
(Year 3)
Athletics Club
Some Year 6 children have been given the opportunity to attend a club run by the IOW Athletics club. They will be participating in many different disciplines.
This week in the Athletics club, the girls took part in hurdles & the boys improved their skills in shot putt. The PE team is so impressed with their dedication and effort. Keep up the fantastic work!
Year 3/4 Golf Club
Some pupils were given the opportunity to take part in some professional golf lessons at Shanklin & Sandown Golf Club each Tuesday. Yesterday, the children focused on their putting skills by adapting their posture, direction & speed. Their progress was outstanding – well done mini golfers, you are ready to use the drivers next week!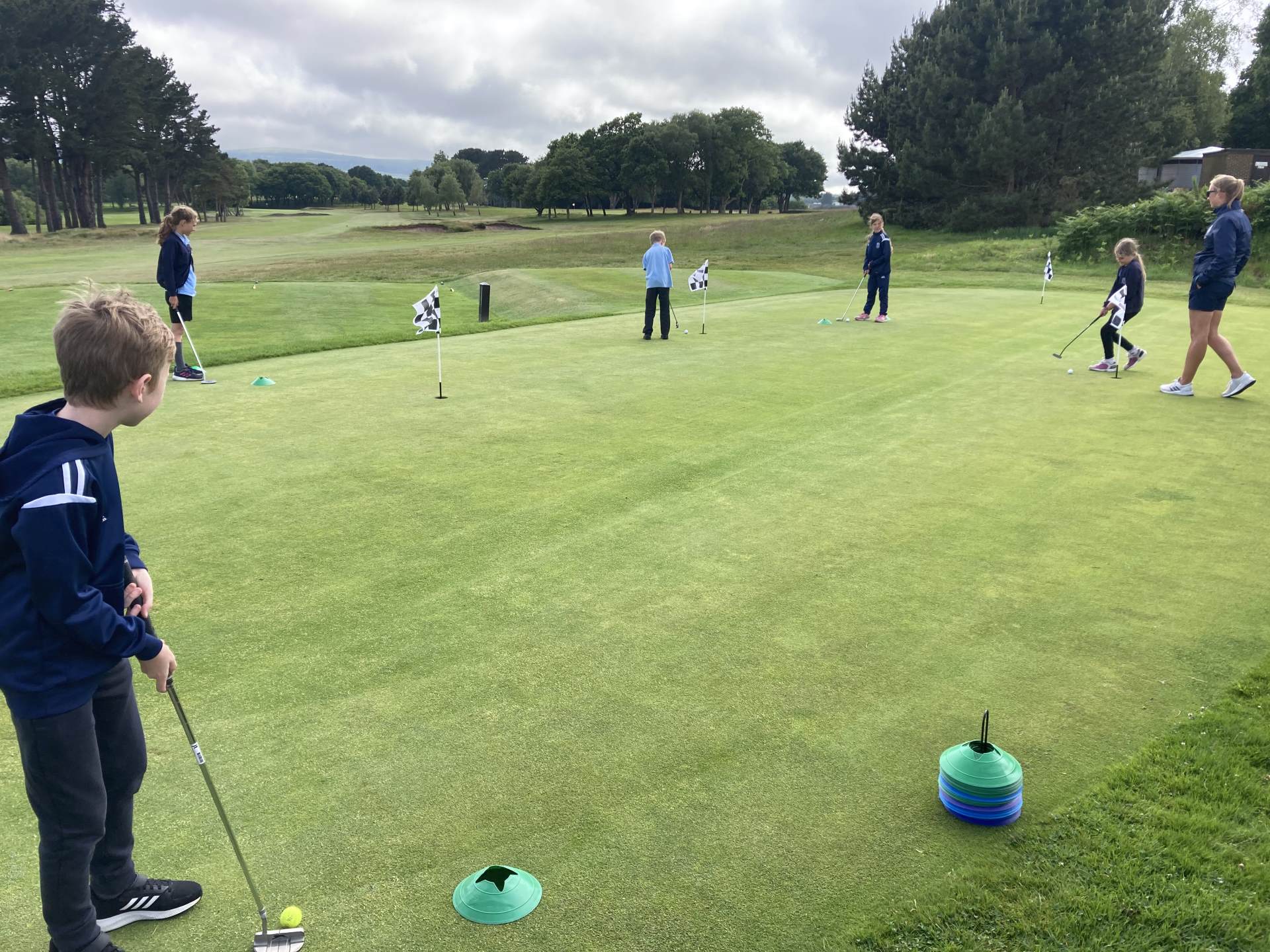 Year 6 – Sea Safety Programme
Year 6 pupils took part in Sea Safety at Sandown beach during the summer term. They learnt how to keep safe whilst at the beach and when swimming in the sea, as well as what to do if they get into trouble (and know how to help if they see others in danger). They thoroughly enjoyed themselves!
What children at The Bay say about PE?
Y6: "PE is fun and exciting! We do a variety of different sports like cricket, football, athletics, swimming and many more. I have achieved my Sporting Star badge because I really enjoy taking part in sporting fixtures, especially taking part in the football and winning the IOW cup."
Y6: "I really like that we have the different facilities to use like the astro and athletics track. We play lots of fun games in PE as well as break and lunch times. Our favourite games are 'Sharks and Surfers', 'Capture the Flag' and dodgeball."
Y5: "I am aiming to join the Gifted and Talented scheme and participate in lots of sporting fixtures to earn my Sporting Star badge. I like how we get to take part in lots of after school sports clubs too and try new sports."
Sports Highlights 2021-22 (Primary)
Some of the sporting highlights from 2021-22